Return to News Center
---
Free CAE Tool for Topology Optimizations and Structural Simulations
2018-02-26
Simulator offers free finite element analysis on the cloud. (Image courtesy of Simright.)
Traditional simulation is expensive—no doubt about it.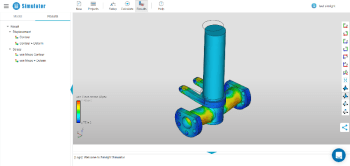 To this day, many small businesses and startups are priced out of the opportunity to test their products in a digital space.
Even those on a more affordable pay-as-you-go computer-aided engineering (CAE) platform lose the convenience of running that preliminary model to get a quick idea of the direction their design might be heading. Compute cycles aren't free.
This is where freemium tools like Simright's Simulator and Toptimizer can be useful to many small engineering firms.
"Unfortunately, most commercial CAE software is too expensive for small companies," said Kang Zhao, CEO and founder of Simright. "There are open source packages, but they are often hard to use. Another pain is that most traditional CAE software was born as a single-person toy.  It is not easy for people to share, sync data and collaborate."
With a simple CAD file and a few mouse clicks, Simright can provide simulation or topology optimization results. Additionally, the Simright solver works fast, thanks to its cloud-based computational power. Best of all, it's free.
"[A] cloud-based solution is ideal for implementing the SAAS model, which offers cost-efficient and flexible plans for customers," explained Zhao. "Additionally, it makes collaboration and data sharing much easier. These are the main motivations for why we started Simright."
What Simright's CAE Suite Has to Offer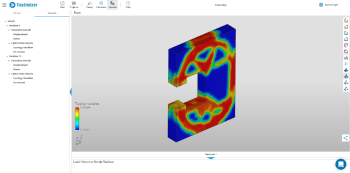 Topology optimization results from Toptimizer. (Image courtesy of Simright.)
Simright is a start-up, so its founders understand what it's like to need software but not be able to afford it.
This is what motivated Zhao and his team to make their CAE tools, of which there are five:
Simulator: A structural simulation solver for Von Mises stress, contours and deformations
Toptimizer: A topology optimization tool
Sim Viewer: A 3D CAE visualizer
Converter: For Abaqus, NASTRAN, ANSYS, OptiStruct, LS-DYNA, STL, OBJ, OFF and PLY files
Model Library: Where users can choose to share their models and simulations
Zhao's team is also planning on releasing a preprocessing and meshing tool by the end of 2017.
Simright sets itself apart in that it's is a cloud-based CAE tool that focuses on topology optimization with Toptimizer. There aren't many freemium CAE software options available that offer topology optimization over the cloud.
This portfolio of CAE tools was born in October 2016. Since then, Simright has grown to an employee base of 16 people. As you might expect, the tools are currently fairly bare-bones. However, for a free software tool from such a small team, it's impressive nonetheless.
Sam Gu, Head of Marketing at Simright, explained that the company's portfolio was created using open-source packages like Calculix, the Code-Aster open-source finite element solver and some proprietary core components for web-based rendering and meshing.
Start-ups and small businesses can gain a considerable amount of value with Simright. For one thing, the tool offers a free sanity check without the need to pay as you go. It can also offer a quick and free topology optimization to guide design early in the development process.
The platform's minimalistic functionality gives Simright the freedom to create simple and natural tools from the ground up. I found myself able to be functional within seconds of being on the platform for the first time, thanks to the intuitive graphical user interface (GUI). Additionally, prompts and helpful information aren't hard to find or understand.
It didn't take long to get started on Simulator or Toptimizer. Figuring out how to use the UI was very straightforward. (Image courtesy of Simright.)
"We emphasize making our tools easy to use for engineers," said Gu. "For example, in Simulator and Toptimizer, loads and boundary conditions are defined based on CAD entities instead of CAE nodes and elements. This greatly simplifies the setup of a simulation job. The number of steps in setting up a simulation job with Simright is much less than with our competitor's products."
Speaking of CAD, Simulator and Toptimizer are able to work with many geometry files, including:
STEP
IGES
ACIS
Parasolid
SOLIDWORKS
CATIA
CREO/PROE/UG
Inventor
JT
Rhino
When you open the software, you can import these files directly and start simulating very quickly. Engineers can also open previously saved simulations saved on their user profiles.
For a tutorial on Simulator, watch this video below:
For a tutorial on Toptimizer, watch this video below:
What the Future Holds for Simright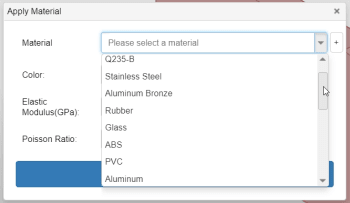 Custom materials are easy to apply in the software. And while writing this article, a materials library went live in Simright. (Image courtesy of Simright.)
Zhao and his team at Simright have serious ambitions for their CAE software suite.
For instance, their five-year plan includes merging the power of machine learning with CAE tools. This can be a powerful combination for implementing digital twins and product optimizations.
As for incremental improvements, Simright has a lightening fast turnaround time, fast enough to make writing this article tricky, as many flaws in the software were fixed during the writing and editing stages.
Take the materials library, for example. When reviewing the software a few weeks ago, there was no such thing. Users had to input their own elastic modulus and Poisson ratio. Now, as of writing, there is a materials library that includes stainless steel, rubber, aluminum, glass, ABS, PVC and more.
It's the same story with Simright's plan to have engineers choose their preferred units. When demoing the software, it was only based on SI units. However, by the time your read this article, engineers will be able to work on the Imperial System.
Zhao explained that they take user feedback—or in this case writer's feedback—very seriously. Instead of waiting a year to implement numerous changes in a single big release, Simright opts to upgrade its products on a weekly basis. Therefore, if you notice an issue and report it; you just might see a fix in a few weeks to a month.
As for mid-term plans, Simright is hoping to add further physics into its platform. The company's to-do list on this account consists of:
Heat transfer and vibration analysis by Q1 2018
Computational fluid dynamics (CFD) by Q2 2018
Not too shabby for a team of 16 employees.
One thing that engineers shouldn't expect to see from Simright in the near future is any geometry modification tools. Gu explained the reason for this:
"We are partnering with Onshape for their web-based CAD," said Gu. "Users are able to modify their CAD geometry models in Onshape. Then, their CAD models could be imported into our apps. Actually, we also put our tools in the Onshape app store."
Once these new features become available, Simright plans to move toward a freemium, pay-as-you-go or rental service. "We are going to provide our online software as a service (SaaS), and users could pay for our software on demand," said Gu.
To keep projects private, users will be able to rent Simulator and Toptimizer on a weekly, monthly or yearly basis. Users will also be able to perform free simulations at any time, provided their project remains public.
The Converter, however, will be priced based on the size of the model being converted. Model conversions with fewer than 10,000 finite element nodes will remain free, while larger models will have a price tag.
One thing is for sure, Simright might be the new kid on the block, but this will not be the last time we hear from them.
"Web-based CAE is a relatively new market, which is still pretty small today," said Zhao. "However, we believe it will grow fast and tremendously change how people use CAE in the future."
For more on Simright, check out their software here.
Simright has sponsored ENGINEERING.com to write this article. It has provided no editorial input. All opinions are mine, except where quoted or stated otherwise. —Shawn Wasserman
https://www.engineering.com/DesignSoftware/DesignSoftwareArticles/ArticleID/15904/Free-CAE-Tool-for-Topology-Optimizations-and-Structural-Simulations.aspx